The "Network Marketing Business Plan" Of a Six Figure Top Income Earner
Here it is, the six Figure Network Marketing Business Plan of a Man who went from foreclosure to a top earner in his company. The exact same plan I will be using to accomplish my goals. The exact same plan that I will be sharing with you every step of the way.
This is the Network Marketing Business Plan Of a very successful Network Marketing Professional Ray Higdon.
The Network Marketing Business Plan.
Ray was a real estate investor who was introduced to Network Marketing in 2006. Real estate was doing very well for him until everything fell apart in 2008. From 2006 to 2009 Ray tried and failed in 11 different Network Marketing companies not having any clue of what he was doing.  Thinking that Network Marketing was only about "Getting People."
Ray was down, crippled with stress, mentally, spiritually and financially, he was at his lowest. His personal home and 7 of his investment properties were in foreclosure. Life was not great at all, especially when his girlfriend at the time, now his wife had to pay his utility bills.
One day in July of 2009 his close friend called him to come by to look at a business opportunity. Out of desperation, Ray agreed to see what his friend had to offer and see what it was all about. He enrolled, put his head down, rolled up his sleeves and went right to work. Becoming the Top Income Earner in that Network Marketing company in 7 Months.
Six Figure Network Marketing Business Plan Exposed
Are You Ready? Like I said, it's the exact same plan I will be using to achieve that same results.
Tony Robbins couldn't have said it better:
"If You Want To Successful, Find Somebody Who Has Achieved The Results You Want And Copy What They Do And You Achieve The Same Results."
So I suggest that you do the same, Ray Higdon has achieved Massive Success in Network Marketing, he is a perfect role to copy.
So here it is in Ray Higdon's in words.
Plan accompanied by Urgency.  He told my wife my two-year plan. (He Had a Plan.)  I have to get serious, I have to get out of this mess. I'm going to put my head down, going to close the door to my office, no going out for dinner, no movies, no vacations, not any kind of enjoyment. Nothing but, complete focus on making this happen.
 Weekly Meetings. Every single week he had a weekly lunch meeting, and one to two house meetings. Every Week! At first it's all going to be on you, but eventually, it gets easier as your team grows as they will be having the meetings. If you want to have a vision for Massive Success in this industry, create fires all over the world.
Go For NO. Go for 20 no's a day, that's online and offline Marketing. Face to face, on the phone, social media the possibilities are endless prospects are everywhere.
Go for SPEED with your warm market.  Yes, after 11 different companies Ray approached his warm Market, Again. Go for speed: Are you open? Tell me yes, tell me no I gotta go. If they say: No.  "NEXT!" If they say yes, show them the presentation, with no attachment to the outcome.
Content Creation, Provide Value. Articles, blog post, videos.
Attend all major Events. Nuff Said!
DMO, Daily Method of Opperation. Suffer from information overload? #1 killer of information overload, is a DMO. A routine, things that you do "Every Day." Prospecting,(Online Off Line) phone calls, setting appointments and doing or showing presentations, use tools, videos, audio, etc.
Create triggers: When Ray thought about how bad things were, he picked up the phone. Create a habit an action that makes you take positive action when you don't want to do what you need to do.
Well, that's it, but then again that's not all of this Network Marketing Rock Stars Network Marketing Success Tips since that interview Ray has grown by leaps and bounds. This is just the tip of the iceberg.
However, Ray is my mentor. I'm actually in contact with him almost every day. So, everything that I learn and everything that I do I will share with you.
So far I'm certain that I've done that as this is the exact same plan I will follow. Certain that I will grow and with that being said, I invite you to grow with me.
The only thing that is required of you is that you come by from time to time, watch my results for that will be the true indicator. Then as you see me grow, do what I've done so that you can get what I got.
Zig Ziglar said it best.
Oh, by the way, if by chance Ray Higdon reads this article. I want to thank you Ray, for always being a magnificent role model, leader, and mentor. 
Take care, be blessed.
JosephDiego.
THE TOP EARNER FRAMEWORK?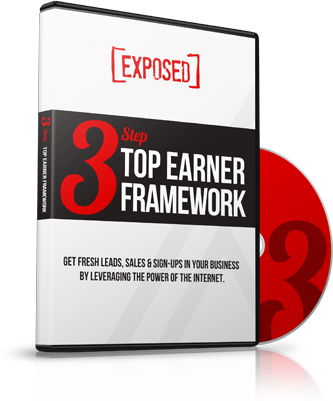 FINALLY Unlock the 3-Step Framework and Learn How to Get Fresh Leads, Sales & Sign-Ups in YOUR Business Leveraging the Power of the Internet.